A post dated 2/2/11 on GBAtemp states that a new fake AK2i is being sold. The PCB has an "EON" brand chip and the card is reported to work with AKAIO 1.8.5. The fake card is reporting a HWID of 44, which is known to be a "good" AK2i.
Read about it
HERE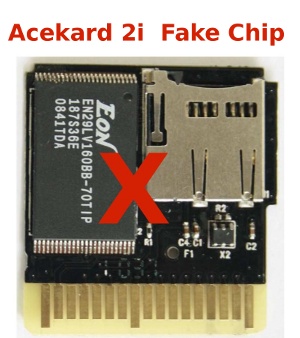 *Thanks to Another World @ GBATemp.net for hosting the image
AKAIO 1.8.5 and 1.8.5a works. But the bypass does not work (in any MicroSD)
- Chip EON brand (the original SST).
- ID:0fc2 HW: 44 SVN: 1034
- Firmware update does not work.

If you have one of these cards get in contact with me. I want to update the
The "Real" AK2i
thread with images and information.
Sites known to sell it:
r4ibuy.com